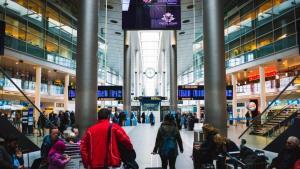 Transport hubs play a central role in cities' economies and quality of life and are therefore also at the heart of the green recovery that leaders are striving for.
As COVID-19 restrictions ease in many parts of the world and transport services begin to get busier once again, safety is top of mind for operators.
Safety, security and convenience are fundamental to encouraging people to choose public transport over personal cars and to giving them confidence as they return to economic and tourism centres.
Transport hubs are already complex and dynamic venues and COVID-19 has introduced some additional elements. Investing in the right systems now will help operators address current shifts and become more resilient for the future.
Trends
There are several key areas for transport hub operators to pay close attention to at this pivotal time, including health, safety, cleanliness and crime. With so many issues to oversee and the need to manage budgets effectively, organisations are increasingly deploying digital technology, from contactless ticketing and data-driven apps to video analytics.
A key trend is opting for systems which capitalise on existing infrastructure, such as lighting, waste bins and CCTV. Over the last year, this approach has helped transport hubs rapidly adapt to COVID requirements without the need to heavily invest in new equipment or staffing.
Some councils have used lighting to 'nudge' people away from potentially crowded train station exits, for instance. Others have used bins as people counters in busy public places. Another example is the use of video analytics software to monitor not only mask-wearing and social distancing but also dwell times and directional movement within transport hubs. Deploying AI algorithms on CCTV feeds can help operators ensure adherence to rules when they are in place as well as to better understand how infrastructure is used so it can be constantly improved and optimised. The most advanced and versatile of these tools offer real-time monitoring.
Among the most pressing matters for transport hub operators is safe and sustainable reopening as COVID-19 lockdowns end and people begin to move around more. Essential measures to boost safety include providing clear and timely information on schedules and how busy services are, and ensuring good ventilation and cleanliness.
Recent polls have suggested that minimising crowding remains important for the foreseeable future.
Advanced video analytics can flag when crowds are gathering so that staff can take action to disperse large groups or make other quick adjustments to help keep people flowing and avoid congestion.
Crime
Personal safety is also critical. Witnessing or hearing reports about crime on train platforms or bus stations will deter people from leaving the car at home. People also need to feel safe in their surroundings.
Research suggests that in many places, women are particularly concerned about their personal safety and being harassed or assaulted when using public transport systems.
In addition, analysts at Pool Reinsurance recently warned that the risks of terrorist attacks on transport hubs could be heightened following lockdowns. Low sophistication approaches such as bladed weapons are deemed the most likely method, but bombings remain a threat.
Prevention of crime is paramount. This includes good lighting and station design, clear wayfinding systems and signage, and surveillance systems.
Applying algorithms to real-time CCTV feeds allows operators to detect multiple threats in transport hubs and other settings, from possible violent or risky activity to fires, suspicious packages and even weapons.
Advances
These tools have advanced significantly in recent years. Solutions are available from companies such as viisights which go beyond conventional video analytics that use old pixel technology to recognise and classify static objects. Behavioural analytics also understand situations and actions.
For example, people are likely to be hugging at airports and train stations as they greet or wave off their loved ones. Behavioural analytics can detect the difference between people hugging versus fighting, for instance, minimising false alarms.
Specialist 'scene change' analytics can spot a potentially suspicious package, weapon, or smoke and fire, and trigger an immediate alert.
Security staff cannot be everywhere at once or monitor a growing number of cameras at the same time. Using technology to cover more ground could save critical time and lives in an emergency but the main goal is to prevent situations escalating. Adopting tools which predict events before they occur based on preliminary behavioural patterns, from loitering to approaching an out-of-bounds area, can play a unique role here.
At the same time as providing vital security infrastructure, the multifunctional nature of video analytics systems mean they can also help with managing queues, staying on top of litter and keeping an eye on a wide range of day-to-day issues.
This all adds up to clean, safe, convenient and pleasant transport services that people want to use.